Group hiking shuttles from Green Ride Charter Services can take you to some beautiful views. Colorado is a hiker's paradise, with endless scenic trails and beautiful national parks to explore. A hiking trip is a fulfilling way to enjoy the great outdoors and cherish our planet's natural beauty. However, getting there can be a real challenge. Parking may be nearly impossible, especially during peak season. Not to mention, the winding roads and rugged terrain can make driving to the trails stressful and tiring. You don't need to worry about the commute when Green Ride Charter Services is driving. 
Green Ride Charter Services offers group hiking shuttles to visits some of the best hiking trails and national parks in Colorado. Our fleet of shuttles, operated by expert drivers, can take you to some of the most popular hiking locations like The Hessie Trailhead, Chautauqua, Eldorado Canyon State Park, and more! Relax while we take care of the driving. We offer a comfortable and safe way to see some of the best trails in Colorado. Turn to Green Ride Charter Services as your go-to group hiking shuttle service for Boulder and Denver hiking expeditions. 
Popular Group Hiking Destinations
There are over 3,000 mountains in Colorado. Home to the Rocky Mountains. Colorado offers breathtaking outdoor adventure every day of the year. Awesome hiking trails abound in Boulder and Denver. You just need to figure out where you want to go. Popular trails that Green Ride group hiking shuttles visit: 
The Hessie Trailhead
Chautauqua Park
Eldorado Canyon State Park
Flagstaff
Mount Sanitas
And more! 
When Green Ride Charter Services drives your group hiking shuttles, all you need to worry about is picking the right hike. 
Hessie Trailhead
Located on the edge of the Indian Peaks Wilderness, Hessie Trailhead has access to several majestic trails that offer stunning views and a range of difficulty levels. From the challenging Devil's Thumb Trail to the serene Diamond Lake Trail, there's something for everyone. Learn more about Hessie Trailhead peak season, Memorial Day to early October, free shuttles during the weekends. Let Green Ride Charter Services take you there on group hiking shuttles, so you can focus on enjoying your hike.
Chautauqua and The Flatirons
This classic Colorado hiking spot boasts over 40 miles of trails and breathtaking views of the famous Flatirons rock formations. It's a popular spot, which means parking can be tough. Leave that hassle behind and let Green Ride Charter Services take care of your transportation needs.
Eldorado Canyon State Park
This park offers numerous trails with varying levels of difficulty, including the challenging Rattlesnake Gulch Trail and the scenic Fowler Trail. Eldorado Canyon is less than an hour from Denver, making it an ideal destination for a day trip. With Green Ride Charter Services, the travel time will be comfortable and stress-free.
Flagstaff Mountain
Located just outside of Boulder, Flagstaff Mountain offers panoramic views of the city, as well as several fun hiking trails. The mountain has a rich history and is a popular spot for both tourists and locals. Let Green Ride Charter Services take you there safely and enjoy the scenery without the stress of driving yourself.
Mount Sanitas
Hiking the Mount Sanitas Trail is a true Colorado experience. The trail can be a bit challenging, but the views of Boulder and the Front Range are well worth it. Why not take on the challenge and let Green Ride Charter Services make it a stress-free experience?
No Parking? No Problem!
Green Ride Charter group hiking shuttles are the perfect solution for hikes that are difficult to access due to remote roads and limited parking. The Hessie Trailhead is a popular starting point for hiking trails like Indian Peaks Wilderness, Devils Thumb, Lost Lake, King Lake, Woodland Lake, and Diamond Lake Trails, but parking can be difficult. Especially between Memorial Day and October. Green Ride Charter Services provides free transportation to the Hessie Trailhead during this busy season. Off season, with Green Ride Charter Services, you and your hiking party can be transported comfortably and safely to The Hessie Trailhead, and other popular hiking destinations, without the headache of finding a parking spot.
Learn more about other group shuttle services, whether to events or corporate dinners, Green Ride Charter Services can get your group there.
Local Expert Drivers
Our shuttle drivers are more than just drivers. Green Ride drivers are local experts who know the roads, terrain, and weather of Colorado like the back of their hands. They have grown up here, hiked the same trails as you, and can provide valuable insights and tips on your journey. Our drivers are trained in safe and conscientious driving techniques, so you don't have to worry about navigating winding roads, steep climbs, or bad weather. Don't worry about off-roading in your Sedan. Our shuttles can comfortably and safely transport your group on backroads without breaking a sweat. You can sit back, relax, and enjoy the ride while our drivers take care of the rest.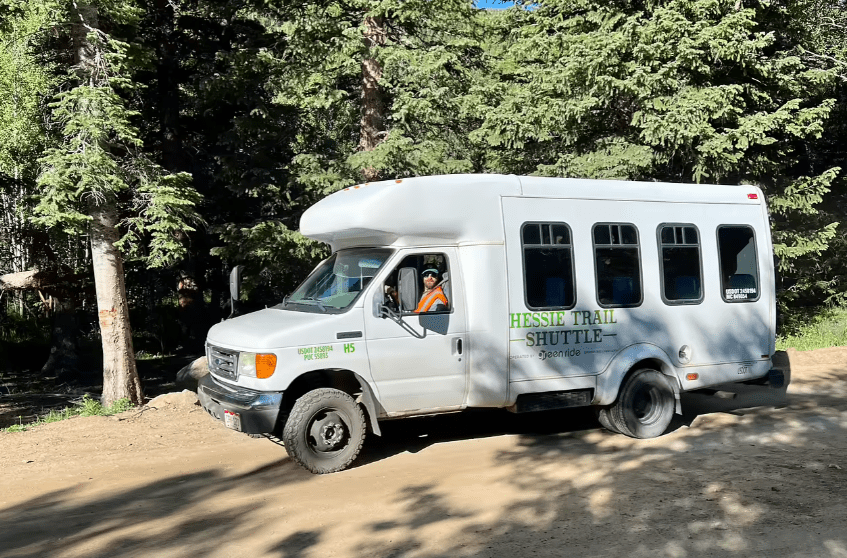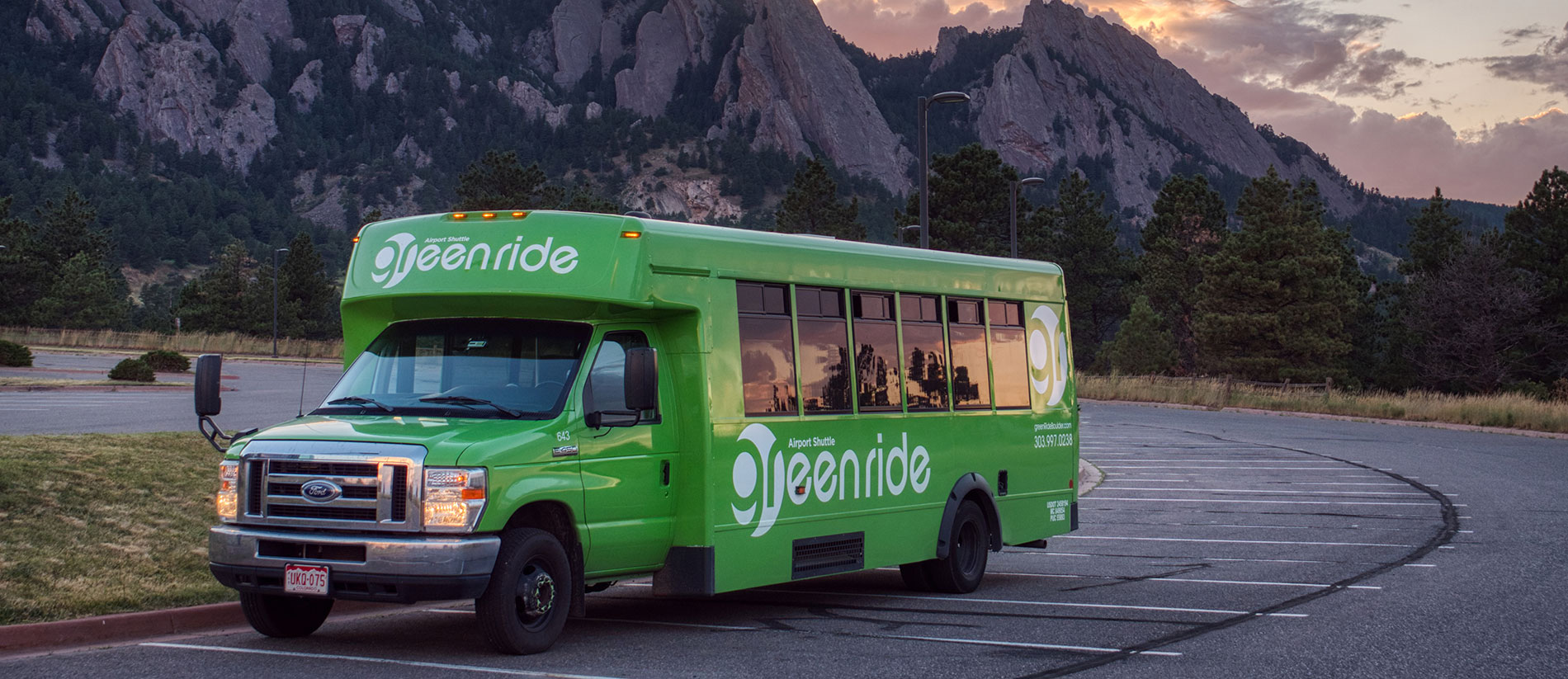 Comfortable and Safe
At Green Ride, we pride ourselves on being a responsible and safe transportation provider. We strictly follow all safety protocols, and our shuttle buses are regularly maintained to ensure safe and reliable travel. We have a team of skilled drivers who are experienced in handling different terrains, traffic conditions, and weather situations. Moreover, we understand that your time is valuable, and we strive to provide timely and efficient services to our customers.
Our shuttle buses are designed for your comfort and safety. Our buses are comfortable with enough space for your group and all your hiking gear. Count on us to get you to and from the trails safely!
Any Group Service
No matter your reason for hiking, we have a shuttle bus that can accommodate you. Whether you're arranging a field trip for students, a pre-wedding hike with your bridesmaids, or a corporate team bonding hike, we have shuttles of different sizes that are perfectly suited to your needs. We pride ourselves on providing personalized services to our clients, so you can be sure that we will work with you to make your expedition a success.
One of the main advantages of choosing Green Ride Charter Services is our flexibility. You can choose to hire a shuttle for a whole day or just a few hours, depending on your requirements, and we will quote you a reasonable price. Our shuttles are regularly maintained and meet all safety standards, so you can trust us to keep you safe and comfortable on your journey.
Easy Booking and Friendly Customer Service
Booking our shuttle services is easy and hassle-free. You can book online or over the phone. We provide transparent and upfront pricing, so you can see exactly what you're paying for. We also have a friendly and knowledgeable customer service team that can answer any questions you may have about our services, hiking trails, or Colorado in general. Green Ride is committed to providing the best customer experience possible. We want you to enjoy our home!
Eco-Friendly Transportation
As a charter service that prioritizes sustainability, Green Ride Charter Services believes in environmentally friendly practices. We want to preserve our beautiful state to the best of our ability. We do our part by reducing cars on the road. With our services, hikers can explore the Colorado trail with ease while also contributing to environmental preservation.
Spacious Group Hiking Shuttles
As a leading charter service provider in the region, Green Ride Shuttle Services offer safe, reliable, and comfortable transportation for any group size. Our shuttle buses are spacious and can accommodate a large group of hikers and their equipment  with ease. With a professional team of drivers who are experienced navigating winding mountain roads and rough terrains, you can always count on us for a seamless and enjoyable experience.
Let Green Ride Charters Take You There!
Green Ride Charter Services is your group hiking shuttles provider to popular trails near Boulder, CO. Our reliable, comfortable, and safe transportation services ensure that you and your group can focus on enjoying the great outdoors without worrying about the logistics. Our experienced drivers are local experts, and our shuttle buses are spacious, ensuring that you have a stress-free and unforgettable hiking adventure. Contact us today to book your shuttle services for your next great outdoor adventure. Call 720-248-8317 to book Green Ride Charter Services guidance to the best hiking trails in Colorado.