Hiking as a group is a safe and fun way to explore the great outdoors. The Hessie Trailhead is one of Colorado's most popular hiking destinations. Located near Boulder, it provides access to some of the state's most beautiful and serene hiking trails. With its breathtaking views, abundant wildlife, and stunning wildflowers, it's no surprise that this trailhead has become a favorite among hikers. Greenride Charter Services offers transportation to the Hessie Trailhead so you can enjoy the scenery, have plenty of room for your gear, and not worry about carpool or parking. Trust Green Ride for transportation to your next trek!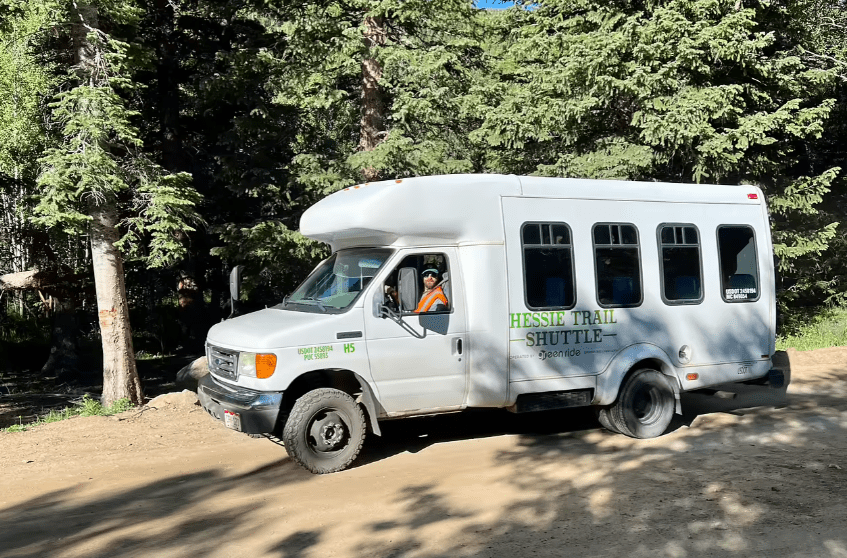 About the Trails
The Hessie Trailhead offers access to some of Colorado's most picturesque hiking trails. Whether you are looking for an easy stroll through the woods or a challenging climb up the mountainside, there is something for everyone here. The terrain varies greatly and includes open meadows, rocky cliffsides, and towering pine forests – all with incredible views of the surrounding landscape.  Wildlife spotting opportunities abound along these trails as well; deer, elk, bighorn sheep, black bears, and more can often be seen along your route if you keep an eye out!
Additionally, during certain times of year (late spring/early summer) wildflowers like gentians and Indian paintbrushes can be seen blooming along the trails adding even more beauty to your adventure!  To learn more about the Hessie Trailhead, click here to Boulder County's information page.
Green Ride Charters Your Hiking Group to the Hessie Trailhead!
From May 29th (Memorial Day) to October 9th, Green Ride Charters offers chartering services for your hiking group to get to and from the Hessie Trailhead safely and efficiently. When you ride with Green Ride Charters, you can experience the beauty of the outdoors, without the stress of managing a big hiking group transportation.
At Green Ride Charters, we understand the time large group hikes take to coordinate, and want to help you assure that transportation is not a worry! We have a fleet of shuttles that can accommodate your party size.
Our drivers are always professional, reliable, and punctual. You and your party will be in good hands, and will be ready to enjoy your hike at the Hessie Trailhead! If you're interested in learning more about our group transportation services, give us a call or fill out our contact form today!
Benefits of using Green Ride for your Group Hike:
Organization and Efficiency for Large Groups
Coordinating a large group hike can be stressful, but it doesn't have to be! With Green Ride Charters, you can plan for you, your party, and hiking gear to be transported together safely and efficiently. Another benefit of using an event transportation shuttle service is safety.
 When you use our professional transportation company, you can rest assured that your guests will be safe.  Our professional drivers are experienced and know how to navigate high-elevation roads. If your group is not from Colorado or not familiar with mountain roads this is especially important.
Tired Hikers Don't Have to Drive Home
Have you ever come off of the trail exhausted and dreading the drive home? Not only is this a tiring experience, it's also dangerous. Having your hiking group all together transported home safely is the best way to ensure everyone maintains the amazing memories you all made on the trail together.
 Don't Have to Hassle with Limited Parking
The Hessie Trailhead has limited parking. Due to its popularity, most of it will be taken by other hikers. Not only is this a frustrating experience, but parking on the sides of the mountain in unauthorized zones is illegal. Spare the stress of limited parking by riding all together with Green Ride Charters. Our drivers will drop you off right at the Trailhead, and pick you up conveniently right after your hike.
Parking is also a concern for backpackers who don't want to leave their cars overnight. Our charter services have plenty of room for your gear and hiking group. You can conveniently schedule drop off and pick up times.
Hessie Trailhead camping permits are required for overnight trips between June 1 and September 15 and cost $5 per group. Organized hiking groups are required to have a permit for day hiking year round (USDA Forest Service).
Chartering is Reliable and Punctual
 If you want a sunset or sunrise hike, time is everything. Your group will want to get to the top quickly to capture the perfect photo or just take in the beauty around them. When you use a professional transportation service, you can count on being picked up on time and getting to your event safely and without any hassles.  You can relax and enjoy the ride, knowing that you'll arrive at The Hessie Trailhead on time and ready to go.
Cost Effective and Easy Tourism
If your group is not from Colorado and are visiting as tourists, charter services are far cheaper than everyone renting their own cars. Gas is expensive these days! If members of your group are not familiar with mountain roads, it is also much safer to have everyone transported together so that the hike can happen on time with no delays. Our drivers can also tell you some fun facts about the trail and the area while you enjoy the scenery!
Eco-friendly Charters
If you're looking for a way to be more eco-friendly, using our shuttle service is a great option. Fewer cars on the road mean less pollution and less traffic congestion. And, since some of our shuttle buses use diesel fuel, you can feel good knowing that you're doing your part to help the environment. Enjoy the beauty of nature with a charter company like Green Ride that values the environment!
Hessie Trailhead is a popular access point to:
Indian Peaks Wilderness
Devils Thumb
Lost Lake
King Lake
Woodland Lake
Diamond Lake Trails
Let Green Ride Charters Take You There!
If you are looking for a convenient, safe, and cost-effective way to transport your hiking group, our Hessie Trailhead transportation service is the perfect solution for you!
Our safe and courteous drivers will make sure that you and your group arrive safely and on time for your Hessie Trailhead hike. To transport your hiking group to your next trek, give us a call or fill out our contact form today!