Event Transportation Service in Boulder, CO
Green Ride Charter Services offers event transportation for your visit to Boulder, CO. We are a locally owned and operated company located in the heart of Boulder, CO. Although there are great advantages when choosing shuttle services,  this is our home, and we want our guests to feel welcome and safe behind our wheel. That is our promise.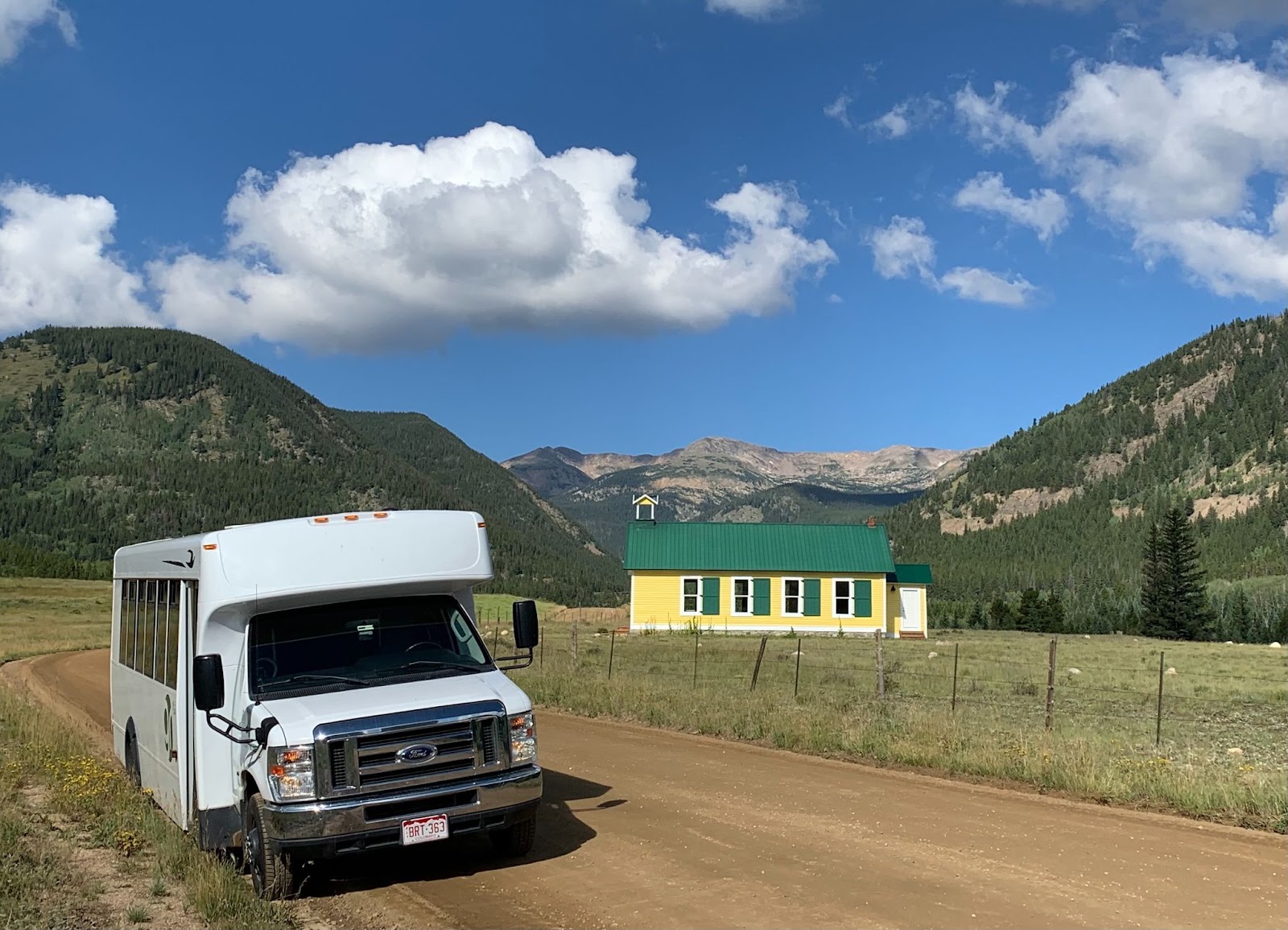 Boulder, CO., is known for its beauty, art, and beer. Let us show you around. Our fleet of shuttles can accommodate your party size and requested specificities. Our drivers are always professional, reliable, and punctual. You and your party will be in safe hands so all you need to do is enjoy yourself. Ready to book your shuttle for an event? Fill out our contact form or give us a call at 720-248-8317. We look forward to showing you around! 
Need a Quote For Your Event?
Get the best value and best event transportation services.
Here are Some Popular Events to Travel to in Boulder, CO
Popular events come with great crowds, which also means busy and hard-to-find parking spaces. You can save time and skip to the fun part with transportation services that can take you to and from grand events in Boulder, CO. Green Ride Charter Services can take you where you want to go, such as:  
Boulder Theater
Something is always happening, from events to concerts. 
Chautauqua Park
A beautiful place for a hike, a dinner, or a wedding.  
Red Rock Amphitheater
Sit under the stars and listen to your favorite band.
Flagstaff House
A beautiful place for romantic dinners, and memorable weddings with lovely views. 
Sunrise Amphitheater
Hold your wedding here or plan other events.  
Velvet Elk Lounge
This famous lodge is part of Pearl St. and is the perfect place to hold special events or enjoy a concert.  
Rembrandt Yard
A wonderful art gallery and venue. 
Breweries in Boulder
Boulder is known for specialty craft beers. Go on a crawl, or a Green Ride tour, to Avery, Upslope, The Post, Oskar Blues, and more!  
Green Ride Charter Services
Experience the Unique Landscape of Beautiful Boulder Colorado
Annual Events in Boulder, CO.
Boulder is full of exciting events from concerts, symphonies, theater performances, races, festivals, markets, and more! Whether you're in town for a specific event or just for a getaway, you will always find excitement in this town.
Boulder, Colorado, is a hub of activity all year round, with events and festivals happening at every turn. Whether you're a local or a first-time visitor, there's always something to do, no matter the season. Here are some annual events that always promise a fun time especially with Green Ride event transportation services! 
Winter Craft Beer Festival
Boulder is known for its award-winning beer. The annual winter craft beer festival is a celebration of all things beer. Come listen to live music, try yummy food, and sample the best beer from the state and around the country! 
Enjoy the festival and get back safely with Green Ride Charter Services. 
Boulder International Film Festival
This festival showcases the best in independent films from around the world. With a mix of documentaries, feature films, and shorts, the event offers something for everyone. You can meet filmmakers and attend panel discussions, and get a real insight into the world of cinema. The festival is a four day long celebration of film. 
Green Ride Charter Services will promptly drive your group to and from the festival, so you don't need to worry about missing any previews. 
Boulder Burgundy Wine Festival
For the sommeliers, wine writers, and winemakers, this festival is for you to come together and discuss burgundy. Expand your mind and your palate at this annual event. Don't worry about getting home–Green Ride Charter Services has you covered. 
Hanuman Festival
This is a yoga and music festival for those soul seekers. You can attend workshops, seminars, and classes, practice yoga and connect to nature. This is a festival that invites you to open up and find peace—attending with a large group? No problem! Green Ride Charter Services can save you money with our group sales travel! 
Shakespeare Festival
This event is a must-see for any theater lover. You can watch some of the best Shakespeare plays by world-class actors. One romantic location to see a Shakespearean play is outdoors at the Mary Rippon Outdoor Theatre. Sit underneath the stars and moonlight and listen to Shakespeare's poetry come to life. 
Weddings
Boulder, CO., is a lovely wedding destination. With an active downtown, the best food and breweries in the country, and the beauty of the surrounding mountains — this is a dream location for your wedding. Green Ride Charter Services does wedding shuttle transportation the best. So stop your search and book with us today.  
Boulder, Colorado, is one of the most exciting cities in the United States, with events and festivals happening year-round. From beer festivals to yoga retreats, the city offers a wide range of experiences that cater to all tastes. Green Ride Charter Services can take you there!
Green Ride Charter Event Transportation Services
Don't Delay, let Green Ride Charter Show You the Way
Why Choose Green Ride Charter Services
Convenience
Choosing a shuttle service means convenience to you and your group for any event travel. Depending on the event you are attending in Boulder, CO., parking might be an issue. Parking lots can be congested or cost a fortune to park! However, you do not need to worry about finding parking, parallel parking, or getting your vehicle scratched. In Green Ride Charter Services shuttles, parking is no concern. You and your guests can sit back and relax as we do what we do best–driving. 
Safety
Green Ride Charter Services also promises our clients our safe and conscientious driving philosophy. When you use Green Ride, you can rest assured that your guests will be safe and well taken care of. Our professional drivers are certified and experienced. They are well-practiced in conscientious driving techniques. As Green Ride is a locally owned and operated business, all of our drivers have knowledge of the area. We are familiar with Boulder and surrounding areas and know the best routes to get to your event. 
Coordinating a large group of people can be stressful when planning a trip. The last thing you want is something to happen to one of your guests. Hiring a shuttle service for event transportation limits the risks of travel. Mainly if the event serves beer or wine, it's safer to choose a ride back home. Your guests can enjoy the event without any worry. Green Ride Charter Services will get your group back safely. 
Logistics
When you use Green Ride event transportation service, we will take care of all of the logistics for you. This includes coordinating with the venue, planning the route, and making sure that everyone is where they need to be. You won't have to worry about a thing– just focus on enjoying your event.
Cost-Effective
Using Green Ride event transportation shuttle service can also be cost-effective. If you have a large group of people attending your event, it can be more cost-effective to charter a bus than having everyone drive themselves, especially if your guests are from out of town. That might mean that their travel expenses might be higher if they are planning on car rentals and gas. Save money on gas, parking fees, and rentals by booking a shuttle service for safe group travel. 
Environmentally Friendly
Green Ride Charter Services is a green shuttle in color but also in practice. In Boulder, CO., we want to help preserve the beauty around us as best as we can. When you choose a shuttle for your group instead of individual vehicles, you are making the best choice for the environment. Even if driving on your own can be more convenient, using shuttle services in scenarios that call for large group events can help put fewer cars on the road which means less pollution and less traffic congestion. Green Ride does the most we can with eco-friendly practices. Share the ride with Green Ride. 
Reliable and Punctual
You can count on timely arrival when you use a professional event transportation service. This is especially important if you're attending a business conference –we offer business travel shuttles – or events like concerts you cannot afford to be late. Relax and enjoy the ride knowing that you'll arrive at your destination on time with Green Ride. 
Ride with your party to and from the destination with punctuality. Our philosophy behind our services is that we provide:
Nice and kind services
Efficient and reliable service
Honesty and integrity
Caring for both the planet and people
Let Green Ride drive you where you need to go. We promise a lovely and safe ride. 
Green Ride Charter Services
Our Gallery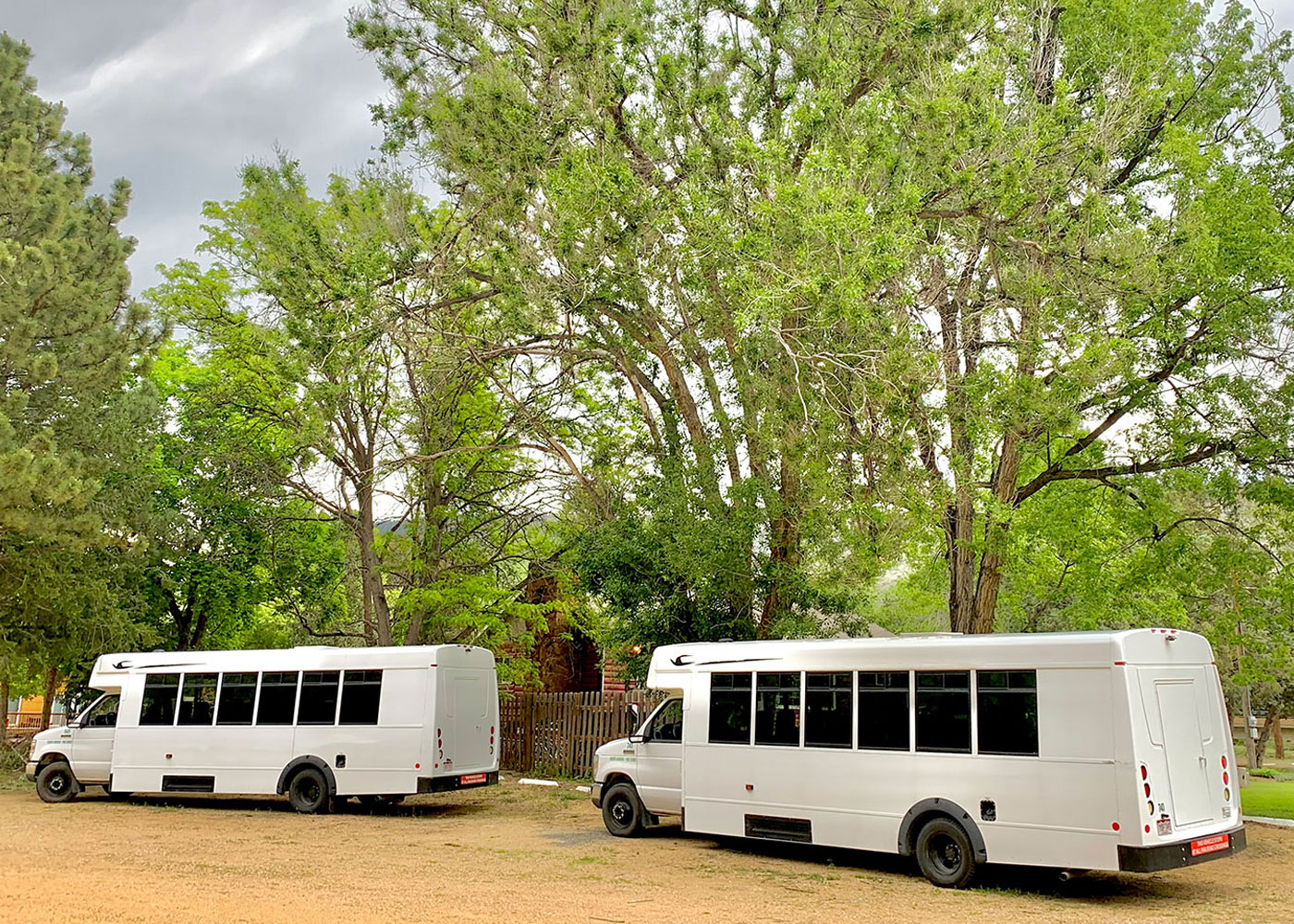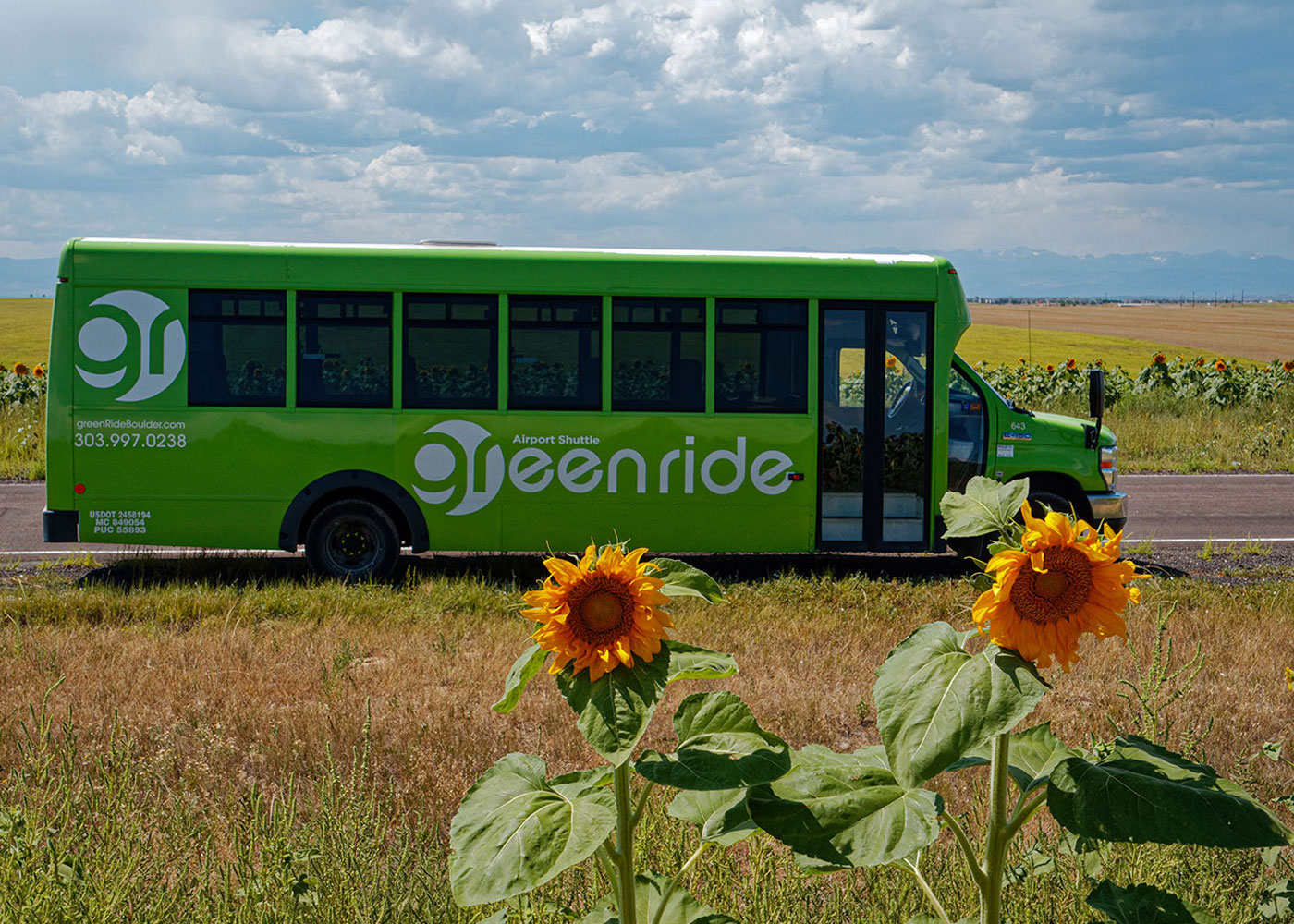 Green Ride Charter Services
Want To Ask Any Question Feel Free To Connect With Us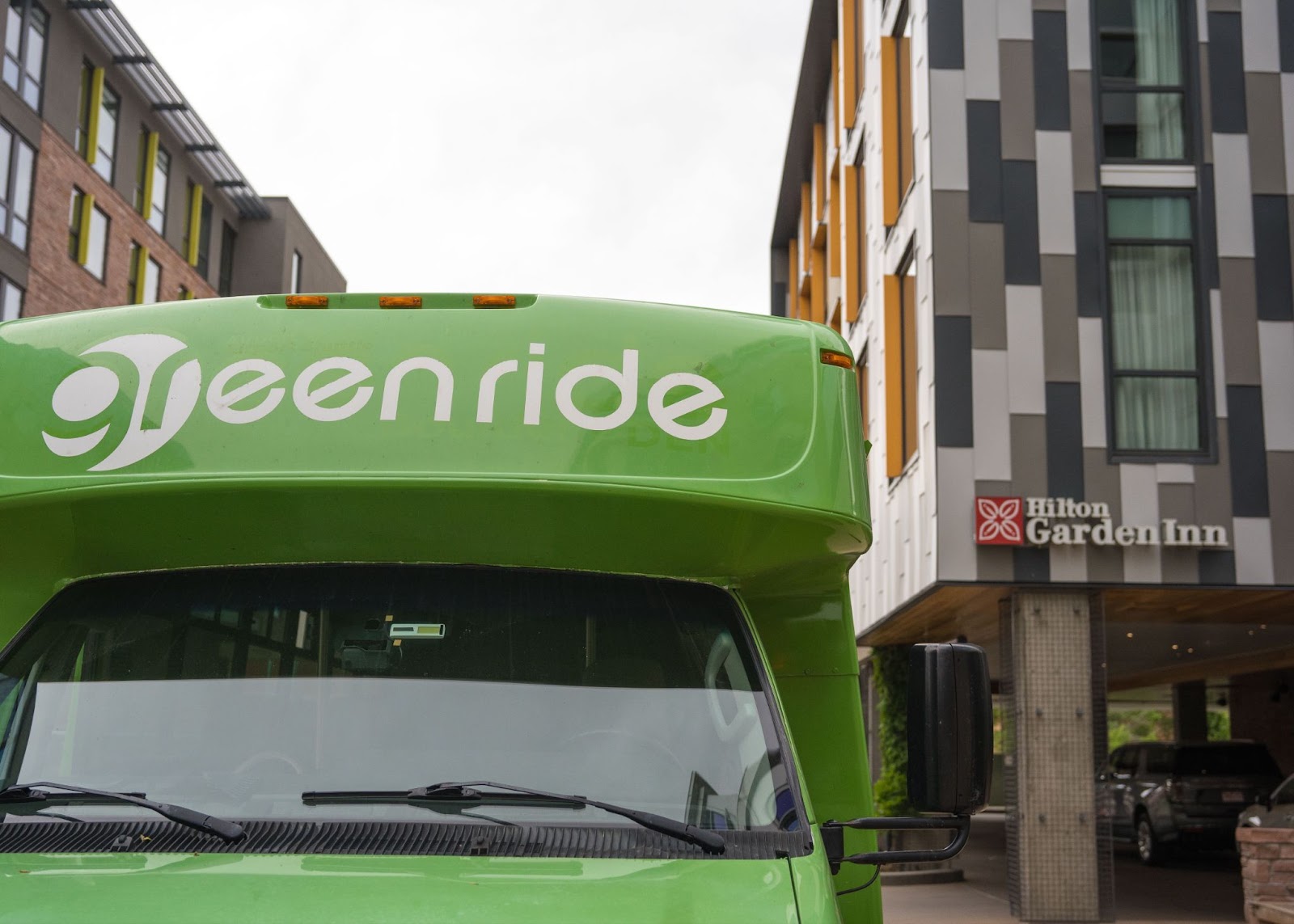 Enjoy the Ride
Shuttle services are more comfortable than driving yourself. Sit back and relax with Green Ride Charter Services event transportation services. There are so many things happening in Boulder, CO., every season. This city is alive with art, activities, and networking. Choose Green Ride Charter Services to provide a convenient, safe, and cost-effective way to transport your guests around our town. 
Whether you're busy planning your event or already need an event transportation service, Green Ride Charters can help. Our safe and courteous drivers will ensure you and your guests arrive safely and on time. If you're interested in learning more about our event transportation services, give us a call at 720-248-8317 or fill out our contact form today.