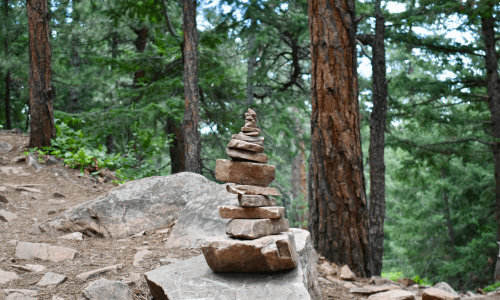 Looking for the best hiking spots in Boulder or Denver, CO.? You've come to the right place! After all, there really isn't anything better than an arduous and sweaty uphill hike to the mountain's peak– where you can stand proud absorbing the natural beauty of this state.  During these moments, you truly see what you are capable of. Hiking season is upon us. Take advantage of this time by checking out some of the best hiking spots near Boulder and Denver, CO. To celebrate this magical time of the year, Green Ride Charter Services created a list of the 11 best hiking spots around the area. When planning your next hike, check out one of these spots, as you may find your favorite new trail! Green Ride Charter Services can take you there with our group hiking shuttles.
Grab a group, pack your pack, and climb on board, Green Ride is driving. 
1. Mount Sanitas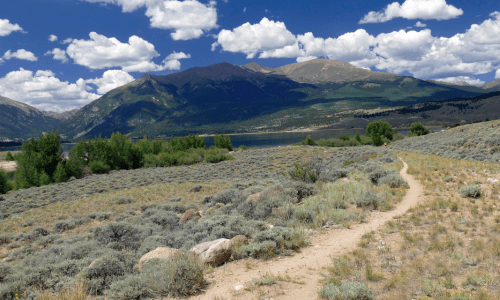 Difficulty: Moderate
Distance: 3.3 miles
This 3.3-mile loop is a popular choice for locals due to its challenging uphill climb, beautiful views of Boulder, and varied terrain. The hike starts on a steep uphill climb and takes you through a forested area before opening up to jaw-dropping views of Boulder. Make sure to bring plenty of water and sunscreen as there is little shade on this hike. Also, don't forget your camera. You'll come across views you'll want to return to. 
2. Chautauqua Park
Distance: 1 to 7 miles
Level of difficulty: Easy to Moderate
Chautauqua Park offers several well-marked hiking trails, making it a perfect spot for those new to hiking or families. The park's beautiful surroundings and stunning views of the Flatirons make it a must-visit on our list. Make sure to take the time to explore the park and visit the historic Chautauqua Auditorium. Chautauqua Park is one of the most visited parks in Boulder for good reason. The park has more than 40 miles of trails you can explore, but the most popular ones are the Flatirons and Royal Arch trails.
Ready to get hiking? Get your group hiking shuttle quote now! 
3. Royal Arch Trail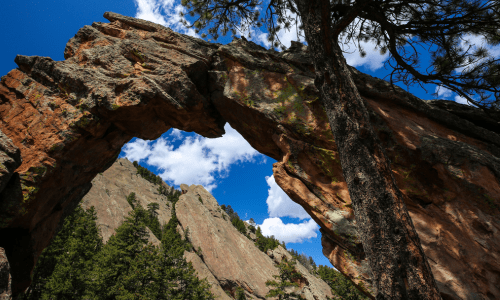 Difficulty: Moderate to Hard. 
Distance: 3.4 miles
Set off on a journey to the iconic Royal Arch, a stunning sandstone rock formation that offers breathtaking views of Boulder and the surrounding plains. The trail takes you through meadows, pine forests, and rocky terrain, culminating in an awe-inspiring natural arch that's well worth the climb. This 3.4-mile trail is known for its stunning panoramic views of Boulder and its challenging incline. The hike can be steep at times, but the view from the top is more than worth it. Bring plenty of snacks, water, and sunscreen because you'll want to stay at the top as long as you can! Green Ride Charter Services will be waiting in the parking lot when you've completed your hike! 
4. Flatiron Vista Trail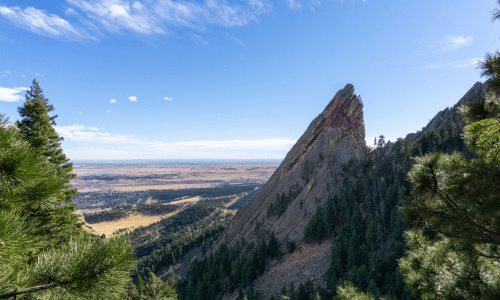 Difficulty: Moderate
Distance: 3.3 miles
This trail can be completed in 2.5–3 hours, and it offers stunning views of the Flatirons and surrounding nature. Immerse yourself in the beauty of the iconic Flatirons on this loop trail. The moderate ascent provides picturesque views of Boulder and the plains below, making it an ideal trail for capturing memorable photos. The trail is peaceful and serene, making it the perfect spot to escape the hustle and bustle of the city.
5. The Hessie Trailhead 
Difficulty: Moderate to Hard
Distance: 4 miles
One of the most popular and best hiking spots in CO. is located just outside of Boulder. This trailhead offers a variety of hiking trails, many of which are rated as difficult. One popular hike is the Devil's Thumb Trail, which spans 6.3 miles round trip with an elevation gain of around 1,900 feet. This trail is open all year round and is a popular destination for hiking, fishing, and camping. Also, it's a must-visit during wildflower season, when everything is blooming. It's absolutely beautiful! Feel free to bring your dog for company, just make sure your dog is on leash, and enjoy the hike. 
During peak season, Green Ride Charter Services offers free shuttle services to the Hessie Trailhead. Learn about this seasonal perk here. 
6. Boulder Creek Path
Difficulty: Easy. Duration: 1-2 hours. This 5.5-mile hike is perfect for those looking for a leisurely hike with beautiful scenery. The trail follows Boulder Creek and will take you through the heart of Boulder. This hike is ideal for families and bikers looking to explore the beauty of Boulder.
7. Red Rocks Trail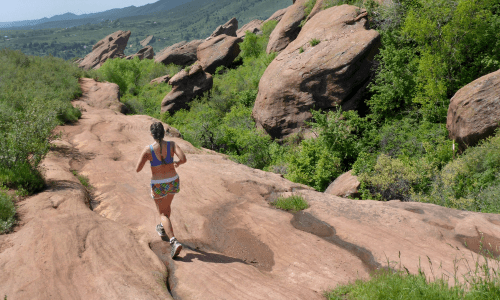 Difficulty: Easy
Distance: 6 Miles 
This trail typically takes 1.5–2 hours and offers some of the best views of the famous Red Rocks Amphitheater. You'll see stunning rock formations and breathtaking foothills views along the way. Explore the unique geological formations of Red Rocks Park on this leisurely trail. Meander through impressive red sandstone formations and catch glimpses of the Denver skyline in the distance. 
Is your group planning an event at the Red Rocks? Maybe you're seeing a concert? Green Ride can take you there with our group sales or event transportation. 
8. Eldorado Canyon Trail 
Difficulty: Hard. 
Distance: 7 miles 
This 7-mile hike is challenging but rewarding for experienced hikers. It takes, on average, about 3–4 hours to complete. The hike offers stunning scenery, including towering canyon walls and beautiful vistas of Boulder. 
After this long hike, don't worry about the drive back when Green Ride Charter Services has you covered. Here are some benefits of a group shuttle service. 
9. Bear Peak 
Difficulty: Hard
Distance: 5.7 miles
Bear Peak is an iconic hike among the locals and offers incredible views of the Front Range. This trail is not for the faint of heart, as it requires a steep climb to the summit. However, the reward at the top is worth it, as you can see Boulder and its surroundings from a bird's-eye view.
10. Green Mountain
Difficulty: Moderate
Distance: 6.6 miles
Green Mountain is another favorite among Boulder locals. The trail winds its way up the mountain, and once you reach the top, you will be rewarded with expansive views of Denver, Boulder, and the plains beyond!
11. Mount Falcon Trail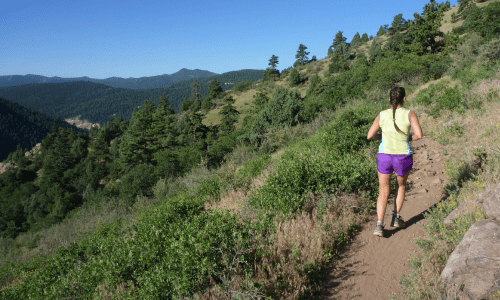 Difficulty: Easy to Moderate
Duration: 7.6 Miles. 
This 7.6-mile hike is perfect for those looking to spend 4 hours leisurely hiking on a beautiful trail. The trail is well-maintained and an excellent spot for families. Uncover the ruins of a historic stone castle on this captivating trail. As you ascend, you'll be treated to spectacular views of the Denver skyline and the nearby Red Rocks Amphitheatre.
Where Will Green Ride Take You?
Colorado's Front Range is a hiker's paradise, boasting a diverse range of trails catering to seasoned adventurers and casual explorers. Whether you're a local looking for a weekend escape or a tourist seeking an unforgettable outdoor experience, these 11 best hiking spots in Boulder and Denver have something for everyone. Be sure to check out Green Ride Charter Services for your hiking group. We can cater to your group's needs and drive you to your chosen trail. Don't see your group's desired trail on this list? No problem! Give us a call at 720-248-8317, and we'll be sure to get you there. 
Related posts